It's been a slow river season for the Baha Boys with only a few trips having been undertaken. And of those trips Lesotho is the only one really worth mentioning. A raging Lotheni River over Christmas meant 5 fishless days for myself, and the birth of my daughter also meant a short lull in the fishing.
So when Worker's Day rolled around, and both Nick and I had a free day, we grabbed the opportunity with both hands and headed for the Bushman's River. I guess there's no real point in introducing the Bushman's as (almost) every trout fisherman in South Africa knows it as perhaps the best wild brown water in the country. That said there have been numerous recent reports around the vast number of rainbows coming out of the water after the local hatchery flooded and around 1500 fish found their way into the stream.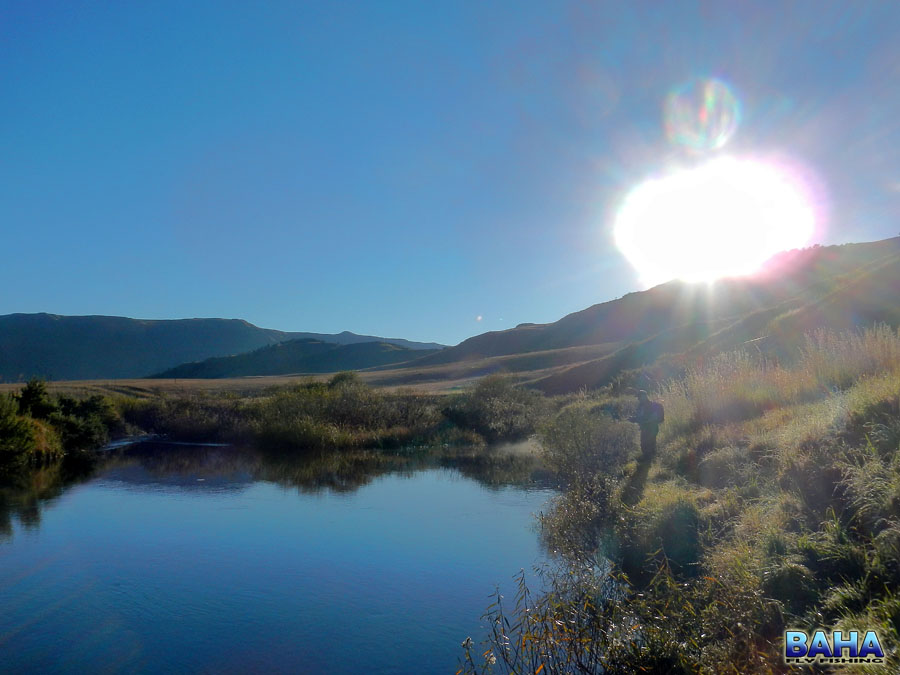 But back to the trip – With the price of fuel ever rising we left the trusty Jeep and Terios at home and headed for the Drakensberg in Nick's frugal Seat. The up and down BP garage produced a fantastic doughnut and cup of coffee and the N3 through Pietermartizburg was finally complete. All in all things were looking good for it to be an amazing day.
We opted for the Mooi River route thinking it would be quicker thanks to more freeway-time and less windy-Kamberg-road-time. This was far from the case as the road from Mooi River to the Giant's Castle road has more holes in it that a Swiss Cheese. Suddenly we longed for the soft rides of the 4x4s instead of the low profiles and hard suspension of the Seat.
Thankfully the slow journey and bumpy ride was quickly forgotten courtesy of the sprinkling of snow of the top of the Berg and the thoughts of what lay ahead.
Thanks to our early start we arrived at our stretch of the river at 6:30am and immediately set about kitting up in the chilly 3 degree mountain air. With bags packed we then headed down the road back to the start of our beat, sucking on a Monster and commenting once again on just how thin the air was.
And then the day really started…
We dropped into the river at a large, roadside pool and started prospecting for fish. Nick opted to attack the water with a dry fly, hoping for some surface action, while I started with a simple nymph-under-an-indicator rig. My thoughts were that the river was rather full, flowing well, and that the fish may be reluctant to rise. Nick's thoughts on the other hand were that while the dry fly may produce less in these conditions, the pure exhilaration of surface fishing was worth it.
We targeted the first pool for around 15 minutes as fish were actively rising (perhaps going a little against my initial nymph theory). I managed to get into one nice rainbow and dropped another just as we were about to move on. Things were a little quieter for Nick however with no rises anywhere near his dry. Eventually, satisfied that we'd given the pool the attention it deserved, we headed upstream.
Nick headed for the next big pool further upstream while I hung behind and targeted some of the smaller pools, runs and riffles. I picked up a few more rainbows in the hour or so it took me to catch back up to Nick, but there were still no wild browns in sight. Perhaps the situation was as bad as people had suggested?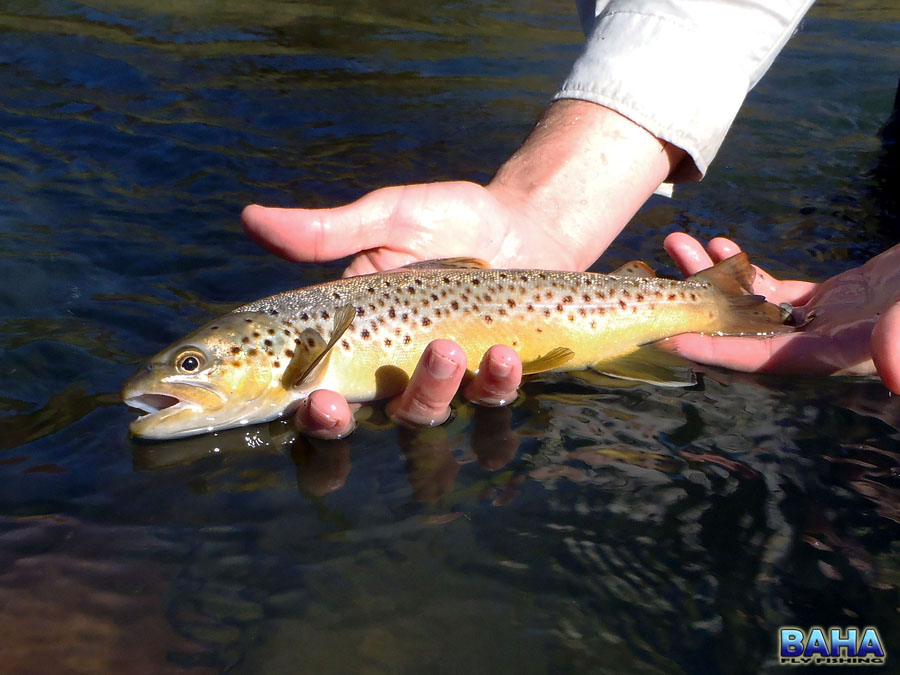 At this point it's worth mentioning that we'd been asked to throw any rainbows caught onto the bank (or to take them home) in order to preserve the Bushman's River as a wild brown water. This isn't something I was immediately keen on and therefore most of my fish were released (I did however take a few home to eat as they were pan size). That said, by the end of the day, I think it may have been the correct thing to do. The stream is overrun by rainbows and if we wish it to remain a wild brown water, something needs to be done.
Anyway, moving on…
When I reached Nick we had a brief chat about the fishing. He'd picked up a few fish but the dry fly was clearly not producing as well as the nymph. That said he had at least picked up a wild brown so the dry was working to some degree.
Hearing about my success on the nymph he added a dropper to his dry and immediately upped his catch rate. In fact he eventually replaced the dry with an indicator since it was getting almost no hits and was causing more issues with casting than it was worth.
Once reunited we fished together for the rest of the day which, as per usual, produced some great moments. A lot of these moments revolved around the sight fishing opportunities which presented themselves once we started fishing together rather than competitively.
With one of us spotting and one of us targeting sighted fish, we really upped our catch rate in both volume as well as size. One of the better fish was taken this way by Nick while I directed his casts to the fish from a nearby hill. The fish rejected the fly over 20 times and, had I not been watching it, he would never have known it was there and moved on. Thankfully we persevered and after 2 fly changes finally got Nick into the fish. Amazingly, when he finally hooked into it, he never even knew the fish had taken the fly. His indicator was water logged and had sunk out of his vision. Thankfully I could still see it from above and told him when to strike…fish on!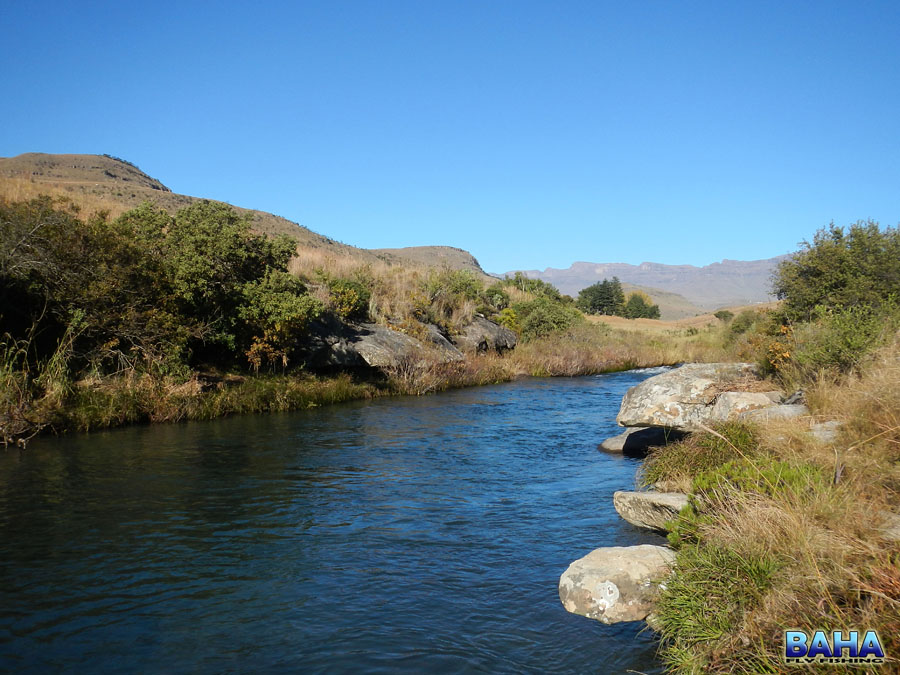 Lunch was of course served on the banks of the river and consisted of rolls, dried fruit and nuts, biscuits, chips and more. Having decided to keep a few fish, and having forgotten to pack packets to store them in, we ate far more than was required in order to free up a packet or two as well as a Tupperware.
Back on the river, with our fish now safely stored away, we continued fishing successfully back up to the hatchery where we ran into Simon. He informed us of a few good fish sitting in the weir below the hatchery so we headed straight back down. We fished it for a short while and picked up some rainbows of over a 1kg as well as a nice brown.
After that we fished for another half an hour until we decided it was time to head home. We cleaned our fish in the river, packed the car, and cracked open an ice cold ginger beer. What an incredible day it'd been.
We finally stopped at the Notties pub for our traditional post-domination beer and once again ran into Simon. I guess all that I can say to finish this story off is that it was another shit day in Africa.